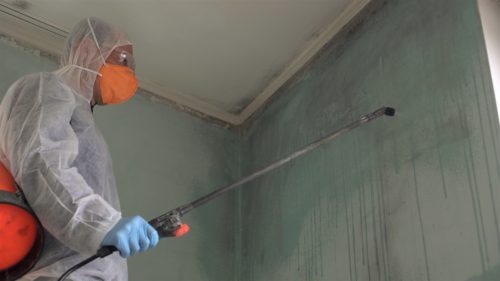 MOLD! Mold is an irritant and causes health problems for many. For people with asthma or mold allergies, reactions may be severe, according to the CDC. If you can see it and smell it, then you officially have a mold problem. Tackle mold efficiently to keep your family safe from mold toxins.
Where there's water, there could be mold
To begin, it is important to know the most common areas that mold is likely to grow in your home. There are countless types of mold, but many common molds thrive in damp, dark spaces. The EPA states that mold can grow on wood, paper, carpet, food, and insulation. It's likely to find mold in the basement, around the kitchen or bathroom sink, in the shower or tub, the laundry room, and your cooking areas. While standing water is an obvious threat to developing mold, more discreet moisture can also contribute to big problems. For example, a heightened level of humidity in your house can spur mold growth. So, be sure to run a dehumidifier in your basement to keep it nice and dry.
What to do if you find mold in your home
Next, let's identify the steps you can take if you find mold in your home.
Wear protective gear like a mask, gloves, and goggles. You don't want mold spores getting into your nose, eyes, or throat. It can cause a reaction and make you sick.
Contain the area. Use plastic sheets to block off the area where you are experiencing mold. Mold spores travel easily and can cling to other surfaces if you do not section off where the mold is located.
Remove damaged materials. Mold soiled linens, clothing, area rugs, and other household items should be bagged up and thrown in the garbage.
Clean the area and your entire home. Use a HEPA vacuum, wipe nonporous surfaces with a strong cleanser, and steam clean your furniture.
Consider a mold inspection or enlist help from a professional mold remediation company.
Act quickly if you have water in your home!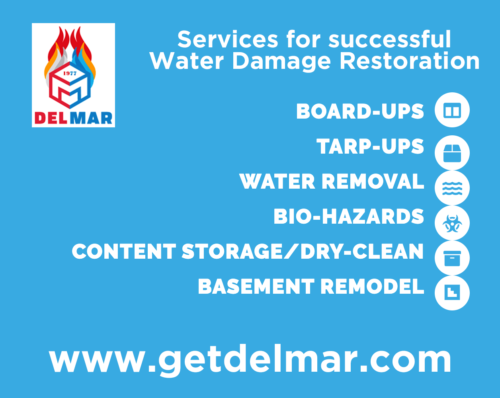 Finally, prevent mold by acting quickly if there is water in your home. For example, if you have a leak in your ceiling, get your roof inspected. If your pipes are dripping, hire a plumber. If your basement flooded, hire a water removal company like Del Mar Builders. Standing water should be remediated immediately. The faster you act to remediate water damage, the lower your chance of developing mold. With headquarters located at 905 W. 175th St in Homewood, Illinois, just south of Chicago, Del Mar Builders is available 24 hours a day at 1(800) 298-0900 for emergency callouts like water removal or storm damage services.
Professional mold remediation
Del Mar Builders strives to prevent mold growth. Del Mar Builder's certified cleaning technicians start by assessing carpets, walls, and belongings to determine what can be restored or what must be replaced. Then, our restoration specialists carefully and properly remove mold and keep your family safe. For non-emergency services, please visit www.getdelmar.com.