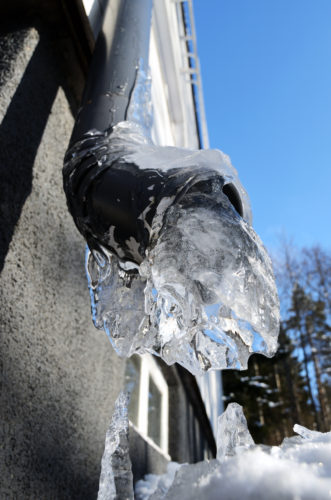 It's winter. Temperatures are well below zero. Imagine coming home to a frozen pipe that bursts. It is gushing roughly ten gallons of water per minute into your house. Your mind races as you begin to assess the situation. What should I do first? Who do I call to deal with the water damage? How much does a burst pipe cost to repair? Could I have prevented this from happening?
Don't let frozen pipes wreck havoc in your home or business. Check out tips to prevent your pipes from bursting. And be ready to respond in the case of a burst pipe emergency.
Prevent your pipes from freezing

Frozen pipes are preventable with these tips from American Red Cross Association:
Insulate your pipes and add insulation to attics, basements, and crawl spaces.
Keep garage doors closed if there are water supply lines in the garage.
Open kitchen and bathroom cabinet doors to allow warmer air to circulate around the plumbing. Be sure to move any harmful cleaners and household chemicals up out of the reach of children.
When the weather is very cold outside, let the cold water drip from the faucet served by exposed pipes. Running water through the pipe – even at a trickle – helps prevent pipes from freezing.
Keep the thermostat set to the same temperature both during the day and at night. By temporarily suspending the use of lower nighttime temperatures, you may incur a higher heating bill, but you can prevent a much more costly repair job if pipes freeze and burst.
If you will be going away during cold weather, leave the heat on in your home, set to a temperature no lower than 55° F.
In case of an emergency
If your pipes freeze and burst, you must act quickly to minimize the damage to your home. Begin by shutting off the water main to your home. This will reduce the amount of water pouring into your home. Your next priority should be water removal. Depending on how much water entered your home, a great option is to call a water restoration company that offers 24-hour emergency services, like  Del Mar Builders, located at 905 W. 175th St in Homewood, Illinois, just south of Chicago. Del Mar Builders works with most major insurance companies to restore homes from water damage caused by frozen and burst pipes. Visit www.getdelmar.com to learn about how Del Mar Builders has been rebuilding lives and homes for 40 years.