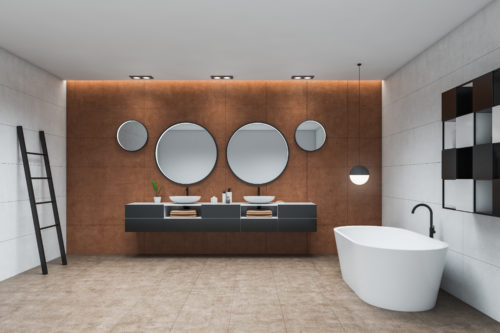 In Is your bathroom outdated? Is your shower or tub beyond repair? Want to add value to your home? If so, it is time to renovate your bathroom. Upgrade your vanity, design a custom shower, or surprise your spouse with a whirlpool tub. Create the luxurious at-home spa environment you have always envisioned.
Bathroom trends right now
If you are upgrading your bathroom, the options are endless! To start, consider the latest trends in bathroom designs.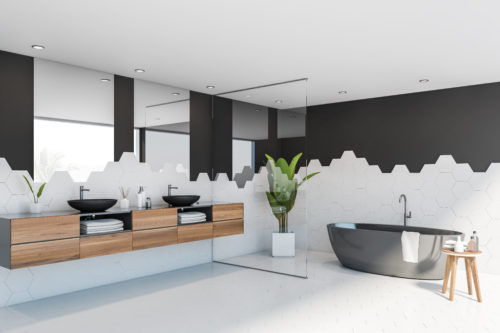 Go tankless! Try a new tankless toilet. The clever, space-saving designs look sophisticated and promote sustainability by conserving water.
Add serious spa style with a free-standing bathtub. If you dream of a vintage look, install a footed tub. Or go modern with a tub that features clean or curvy lines. Either way, free-standing soaking tubs look elegant and inviting.
Bring in bold colors or cool patterns by toying around with tile. Jewel-colored subway tile provides a fun color-pop, while a patterned floor tile or backsplash creates a one-of-a kind look and feel. Go geometric with hexagon-shaped tiles or make your flooring more interesting by placing rectangular tiles in a herringbone pattern.
Say goodbye to cold feet by installing in-floor heating. As a super luxurious yet underrated bathroom upgrade, an in-floor heating system instantly creates a spa atmosphere.
DIY vs. Hiring Professionals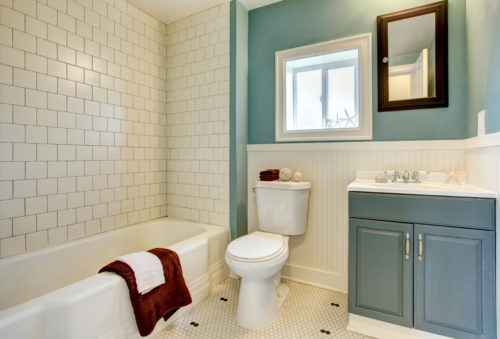 Next, you will want to consider hiring professionals to complete your bathroom renovation. If you are making minor repairs, like changing out a faucet or refreshing the hardware on your cabinetry, DIY may be the way to go.
However, if you are opting for more complex work, like replacing your bathroom floor, shower, tub, or lighting, it is best to enlist professional help. Plumbing and electrical skills are vital to a successful bathroom remodel. Furthermore, if you come across mold in the drywall, it will need to be removed completely before moving forward with the renovation. Reach out to an experienced construction company, like Del Mar Builders, located at 905 W. 175th St in Homewood, Illinois, just south of Chicago, to handle your bathroom renovation from start to finish.
With over 40 years of experience in bathroom design and renovation, Del Mar Builders designs award-winning home and commercial bathroom spaces. For instance, take a look at the Olympia Fields Country Club locker room renovations. For these remodels, Del Mar Builders received the Gold Key Award in 2017 and 2018 from Homebuilders Association of Greater Chicago. The sleek designs preserved the look of the historical clubhouses while creating a modern spa-like retreat.
In conclusion, if you are in the Chicagoland area and you are ready to get started with your home or commercial property bathroom upgrade, please visit www.getdelmar.com.